Winter Activities
Short Mat Bowls
Starting first week of October
Monday at 6.00pm and 7.30pm. Monday Night Triples League.
Tuesday at 10am. Roll-up.
Wednesday at 10am. Mid Week League.
Thursday at 10am and 2pm. Mid Week League.
Various matches against other Clubs in the East Kent League are generally held on Tuesday and Thursday evenings at 7.30pm.
More detailed information about Short Mat at the Club can be found here.
Bridge
Every Tuesday at 1.30pm. Everything else about the Bridge Club is explained on this link.
Line dancing
Every Monday at 1.30pm. More information can be found on this link.
Snooker
Starting Friday 29 September
Everything you need to know about Snooker at the Club can be found in this link.
------------------------
One Off Social Events
Generally organised by the Social Committee
Saturday October 14 - Antiques Road Show - 12pm to 3pm
Valuation of your "treasures". Definitely going ahead now. Emails will be coming round shortly. Timed slots will be posted on the Social Committee Notice Board, when finalised.
Saturday October 21 - Celebration Dinner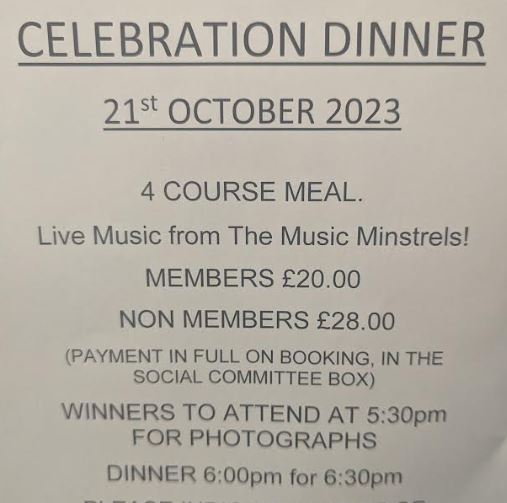 Put it in your diary now. Full menu is available in the Clubhouse together with how to sign up for it.
Saturday December 9 - 12.30pm - 12 Days of Christmas Luncheon
Sunday 31 December - 8pm - New Year's Eve Black Tie Dinner
---------------------------
Club Administrative Events
Saturday October 14 - 9.30am
Ladies' AGM
Friday November 3 - 7.15pm
Men's AGM
Friday November 24 - 7.15pm
Club AGM
---------------------------
Other Notable Events