Founded in 1897
Latest News
Wednesday 20 September - another success
The webmaster has worked his fingers to the bone in covering individual and club successes over the last couple of weeks and just as the feet were about to be put up, along comes yet another victory worthy of praise and a photo.
This time it was the East Kent Mixed Triples League (EKMTL) event at the Thanet Bowls Club yesterday. All eight clubs which participate in the EKMTL are asked to provide teams of two triples for this all-day competition. Each team plays one match against all of the other seven clubs.
There is no Cup to be lifted, but an addition to Club funds was secured and the team that did it can be seen below having won 6 out of their 7 matches. Well done all!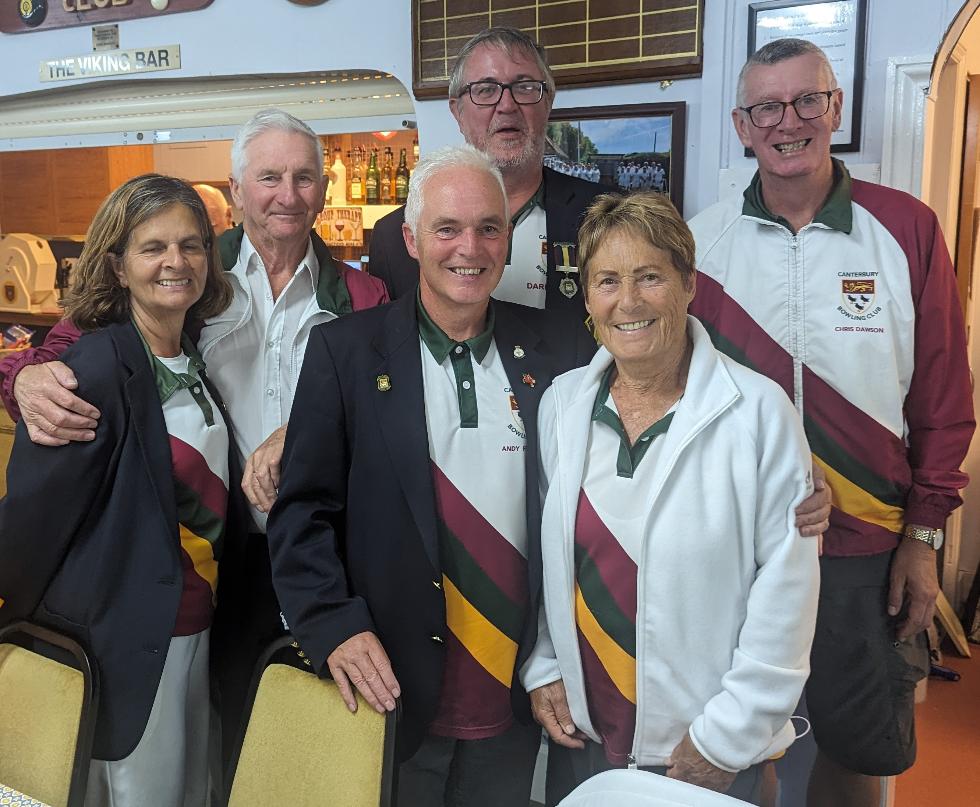 Left to right: Mandy Catt, Jim Catt, Andy Ferguson, Darren Ellis, Maddie McConomy and Chris Dawson
Saturday 16 September - Final's Day Results
On a beautiful day for bowling (and thanks to Damian Hone and his team of helpers for producing six excellent rinks which would grace any competition) we saw an exhibition of fine bowling, with the occasional surprise.
The highlight of the day was the final of the Men's Championship. Some brilliant bowls from Chris Dawson and Matt Rich were played end after end and the winner could not be predicted as we approached what was to be the final end with Chris leading 20-18. Chris put his lead bowl within a few inches of the jack so was holding a match position, but then followed a remarkable trio of woods from Matt drawing inside Chris's bowl. On the final assessment two were conceded and the third was given after a very tight measure, so Matt won 21-20.
All the winners are below highlighted in red. Photos of the winners (and nearly all the runners-up) have been recorded here thanks to the Club photographer Richard Close.
But we have added here the two Club Champions, Mandy Catt and Matt Rich.
Friday 15 September - Fingers crossed for Joe
As we will be watching a whole series of Finals tomorrow, spare a moment to wish Joe Vandepeer the best of luck as he leads for the English Junior side in their first match against Scotland as part of the Home Country International tournament in Wales.
Thursday 14 September - Looking back on the Men's Friday Night League
For much of the season the men of the Club would, at this time of the week, be looking forward to playing tomorrow or scrabbling around to find out who was fit and could play. All this finished last Friday and the winners of the Premier League was a nail-biting affair.
In that League there were 4 teams who at various times were in with a shout to take the title. Raven (Captain Bryan Nicholson), the 2022 Champions, had a very slow start to the season and were forever playing catch up and ended in 4th place with 19 points. Magpies (Captain Dave Todd) had a storming start to the season and looked as if they were going to stroll to the title, but then the wheels fell off half way through and they finished in 3rd place with 20 points.
Everything was in the balance between Marlowe (Captain Malcolm Nicholson) and Invicta (Captain Alan Cornfoot) as they both ended up on 23 points. Invicta had a better shot difference of 12 shots, so become Champions for 2023. Their team was Alan Cornfoot, Brian White, Chris Dawson, Robert Goddard and Bill Hudson.
In Division One, it was close at times with Kestrel (Captain Damian Hone) threatening the leading team briefly and getting a reputation for having the most vociferous support. They finished in 3rd spot with 18 points. Becket (Captain Andrew Burton) made a late run, but could only muster 19 points in 2nd place. Well in the lead was Buzzard (Captain Dean Ellis) with 23 points. The champions of Division One were Dean Ellis, Jim Catt, Andy Ferguson, Carleton Horner and Isaac Tompkins. A formidable line-up in any league.
The Friday Night competition is great fun, played with a competitive edge. It would be good to have another couple of teams, so all those men bowlers who have not tried it, do make an effort to contact the organiser, Bryan Nicholson, who will try to get you in a team.
Tuesday 12 September - Sue Mates bowls blog - it all comes to an end
After an incredible 1,200 games of bowls over 12 days of competition the World Bowls Championships have come to an end in the Gold Coast of Australia. Our Sue Mates has completed her tour of duty as Umpire and Marker and she has sent us her final blog.
In her blog Sue shows the Club's building committee some ideas from Australia.
Did we see a new world Championship record for the shortest singles game?
Monday 11 September - Major Carroll provides the closest of finishes
For over 50 years the Major Carroll Cup has been competed for, but it is unlikely that there has been a closer finish than the one that occurred today. Throughout the season it has been tight at the top of this league.
After this afternoon's final event two players found that their cumulative scores were equal. Chris Parsons and Mike Cunningham were therefore requested to play a one end shoot-out to determine the holder of the Cup for 2023.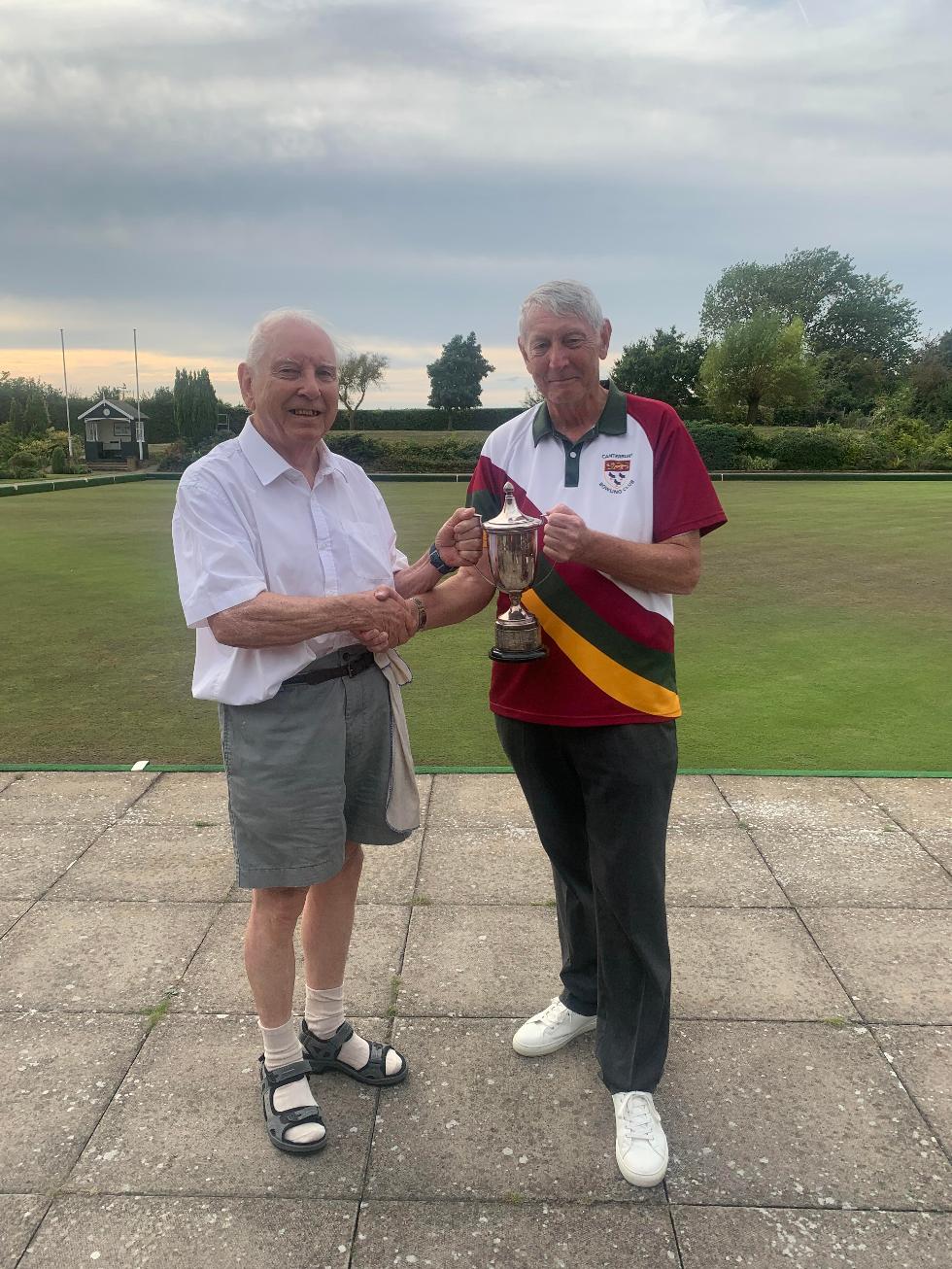 Here we can see Mike Cunningham receiving the Cup from Bill Hillman, last year's winner and the weekly organiser of the Major Carroll. Commiserations to Chris Parsons for just losing out (and to Bob Moore who led the competition for many weeks).
Who was Major Carroll? He was Major HEY Carroll, President of Canterbury Bowling Club in 1944 and Captain in 1946 and whose Will provided a bequest to fund a new trophy to be competed for annually. The eagle-eyed among you may have spotted his name in the History section of this website.
As mentioned above, thanks are due to Bill Hillman for taking on the weekly task of seeing fair play in the selection of random teams. Also thanks are due to Cedric Harding who took on the task of translating weekly scores into a coherent table and then keeping it up to date on this website (and in the clubhouse).
Sunday 10 September - Superb Mollie Cleggett victory by Canterbury Ladies
52 teams from across Kent competed for The Mollie Cleggett Memorial Cup and four teams representing the four corners of Kent assembled at Folkestone Bowls Club today for the Semi-Finals and Finals of that competition. In the Semi-Final Canterbury Ladies defeated Bearstead & Thurnham by 5 shots and in the Final against Coney Hall, the margin was even more convincing. A superb victory to round off a really successful year.
Karen, Chrissie, Jenny, Yvonne, Maddie, Sue, June, Christiane, Alison and Mandy
In the extreme heat the final was reduced to 15 ends with no trial ends. Jenny and June were the travelling reserves.
The Cup was presented by Sylvia Taylor, the Kent President for 2023.
Saturday 9 September - Men's Matthew/Allen Cups
The Matthew/Allen one day competition is for pairs, but excludes two top-rated players playing together. It is played over three rounds and the top two teams then fight it out in a play-off.
The winners this year were Tony Dobson and Ian "Hoppy" Hopkins. Pete Foster and Andy Matthews were runners-up.
Hoppy and Tony
Young Dobson seems to be winning most things this year. The webmaster is contemplating imposing a publication fee for more than three appearances in a month.
Wednesday 6 September - Ladies Dover League Champions
It has been a nail-biting few days for the Canterbury Ladies as they finished their matches last week knowing that if the later results didn't go well for them then they would be deposed as the holders of the Dover League title. But the cards fell their way and with Betteshanger stumbling in their last two fixtures it allowed Canterbury to remain on top and retain the title of Champions of the Dover League! Congratulations.
The Final Table is here. The group photo may take a little more time, but should appear here in due course.
Sunday 3 September - Bernard Annand Shield
London buses come to mind, one comes along, with another just behind. So yet another trophy is destined for the cabinet. Having succeeded with the Semi-Final in the morning the intrepid team triumphed in the afternoon in the Final to bring home the Bernard Annand Shield.
Spare a thought for the player who played in the two previous rounds (not very well in one of those rounds, it must be said) but then departed on holiday so as not to be available for the Finals (and the photo). Obviously the strengthening of the team by his absence paid dividends!
Sunday 3 September - Sue Mates bowls blog (the first week)
Another interesting account of happenings on the greens at the World Championships, including police chases across the green and an All Black's-type tackle by a New Zealand bowler. Read all about it.
Saturday 2 September - Ladies' Drawn Pairs Event
On a balmy day made for an enjoyable game of bowls the Ladies of the Club held their annual Drawn Pairs tournament. In a close encounter, Yvonne Gambrill and Gail Hone took the honours. Sue Close and Julie Spooner were runners-up.
Yvonne and Gail holding the Cup presented by Club President Sue Close
Thursday 31 August - Reminder of two external competitions to come
Most external competitions are done and dusted for the season. But two remain, one for the Men and one for the Ladies, both deserving of spectator support.
On Sunday, 3 September a Canterbury Men's team are in the Semi-Final of the Bernard Annand Shield at Herne Bay BC, an all-day affair (assuming we win in the morning and reach the afternoon Final).
On Sunday, 10 September a Canterbury Ladies' team are in the Semi-Final/Final of the Kent-wide Mollie Cleggett, now to be held at Folkestone Town BC (moved from Ashford Rail) starting at 10am.
Tuesday 29 August - World Bowls Championships (and the next Sue Mates bowls blog)
The World Bowls Championships started today and we know that many Club members enjoy watching bowls being played, as well as playing themselves.
If you don't want to watch live (mostly in our night-time) you can watch on catch-up on YouTube.
If you haven't seen outdoor bowls in Australia before, take a peek. It reminds us of Spock's misquote on Star Trek "It's life, Jim, but not as we know it".
Meanwhile the English contingent of officials (including Sue) have started their onerous duties.
And if you thought that this umpiring business was a bit of a "jolly" you should now read Sue's next blog - the hard work begins
Monday 28 August - Laws of Bowls Quiz
Over the last couple of months we have had five different quizzes concerning the laws of bowls. We had anticipated that we would have been deluged with answers, bearing in mind the number of bowlers with clear views on the green as to how the game should be played. But no, although we had a loyal band of followers willing to give it a go.
We said at the start that there might be a liquid prize for the first person to give us two quizzes worth of correct answers. That person was Pete Foster who not only answered them correctly, but suggested an improvement in the wording of the Laws themselves (which Sue Mates will be pursuing). The webmaster will be seeking him out at the bar shortly.
An honourable mention is given to Cedric Harding who was the runner-up.
The questions and answers to Round One/Two/Three/Four/Five can be found here.
Saturday 26 August - Sue Mates in Australia
Sue Mates, our International Umpire, has been selected as one of the umpires at The World Bowls Championships being held on Australia's Gold Coast in Queensland from 29 August until 10 September. She has agreed to provide a glimpse of an umpire's hectic schedule (she has one day off over the duration of the tournament) in a blog if she can find a moment.
She has already left and she sent her first blog describing her journey.
This website likes to look at other bowls websites and to pick up tips and see how other clubs do things. Sue starts her officiating at Broadbeach Bowls Club and they have plenty of ideas for our new Social Committee to explore. Here are a couple.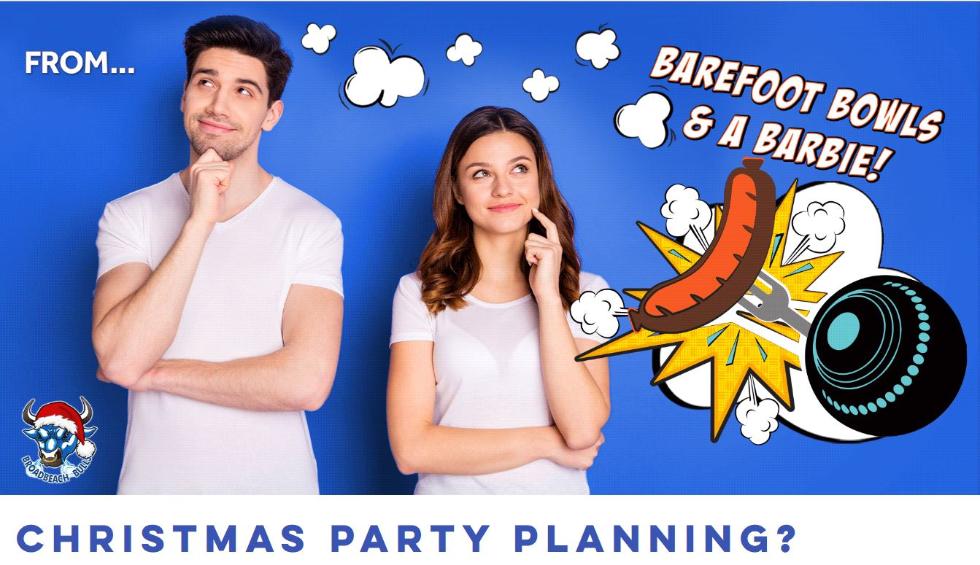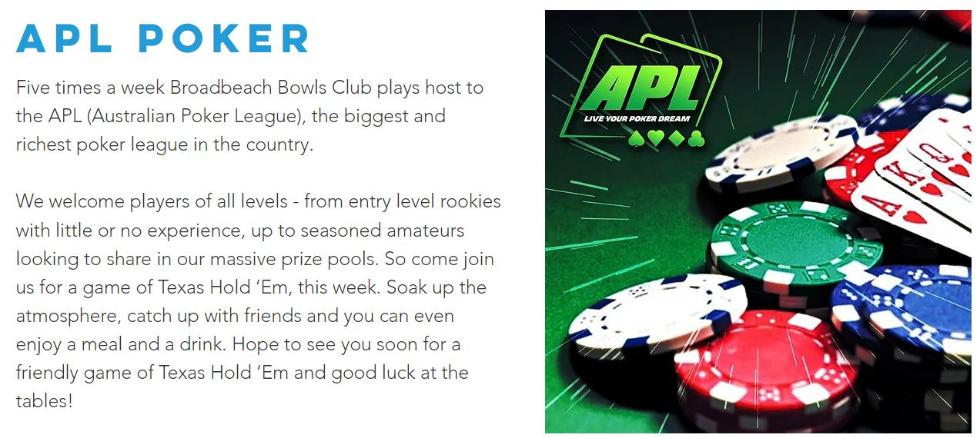 Saturday/Sunday 26/27 August - Bowls events
On Saturday, the Dickins Trophy (which has been competed for annually since 1985) took place on a generally sunny day with 12 teams of mixed triples taking part.
The winners, having remained undefeated all day, were June Mitchell, Malcolm Nicholson and Chris Dawson.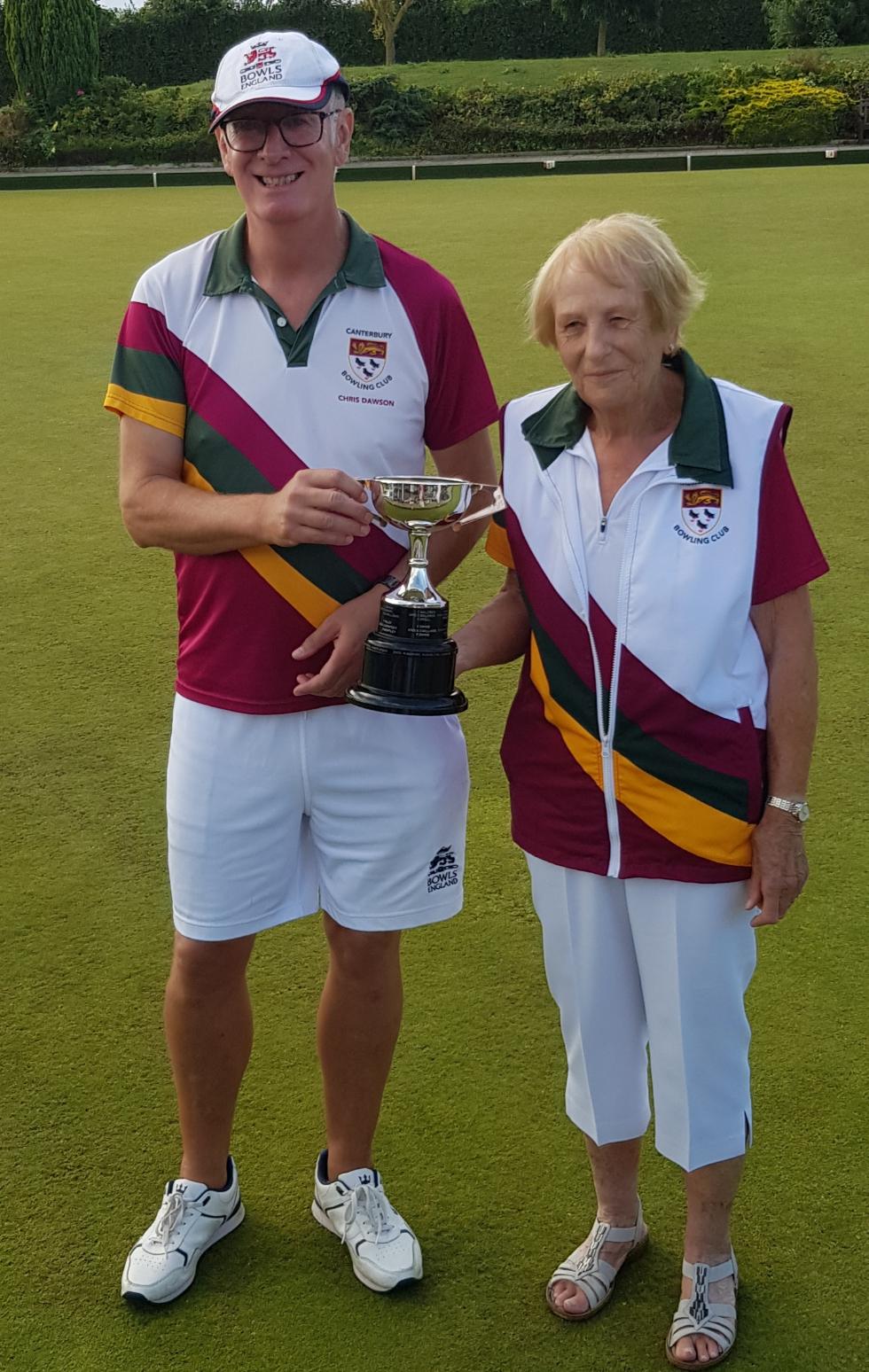 Chris and June with the Cup, Malcolm (below) had to leave early to deal with a family emergency.
On Sunday, a galaxy of our star players appeared in the final of the Millennium Trophy which was held at Maidstone Bowls Club, not only that but they won it. Will we have enough room in the Trophy cabinet?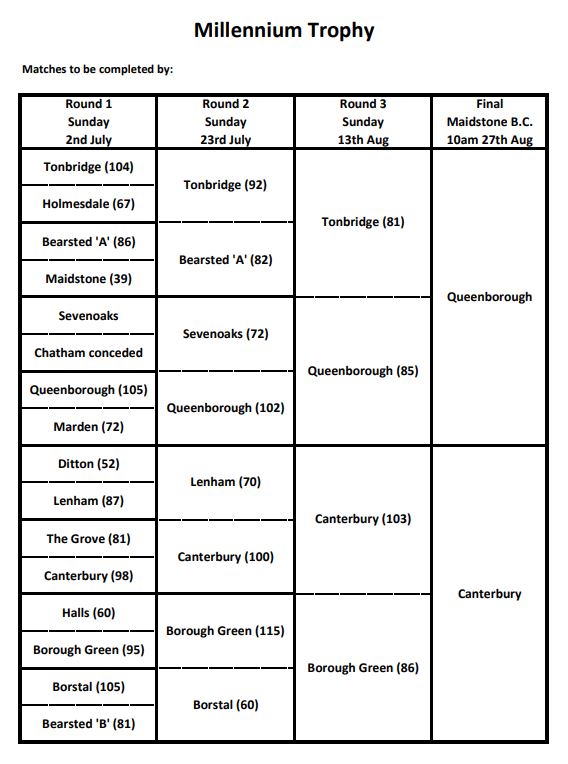 Thursday 24 August - Men's Drawn Pairs event
Although this highly successful event (all 12 rinks being used by 24 teams) was held last weekend, it took a while to establish which of 7 teams tying with 3 wins out of four had actually won the Cup.
The photo shoot of the winners was therefore delayed, but we are pleased to rectify the situation, as can be seen below.
Ken Sampson and Tony Dobson
The runners-up were Colin Strouts and Terry Clayson
In praise of our volunteer gardeners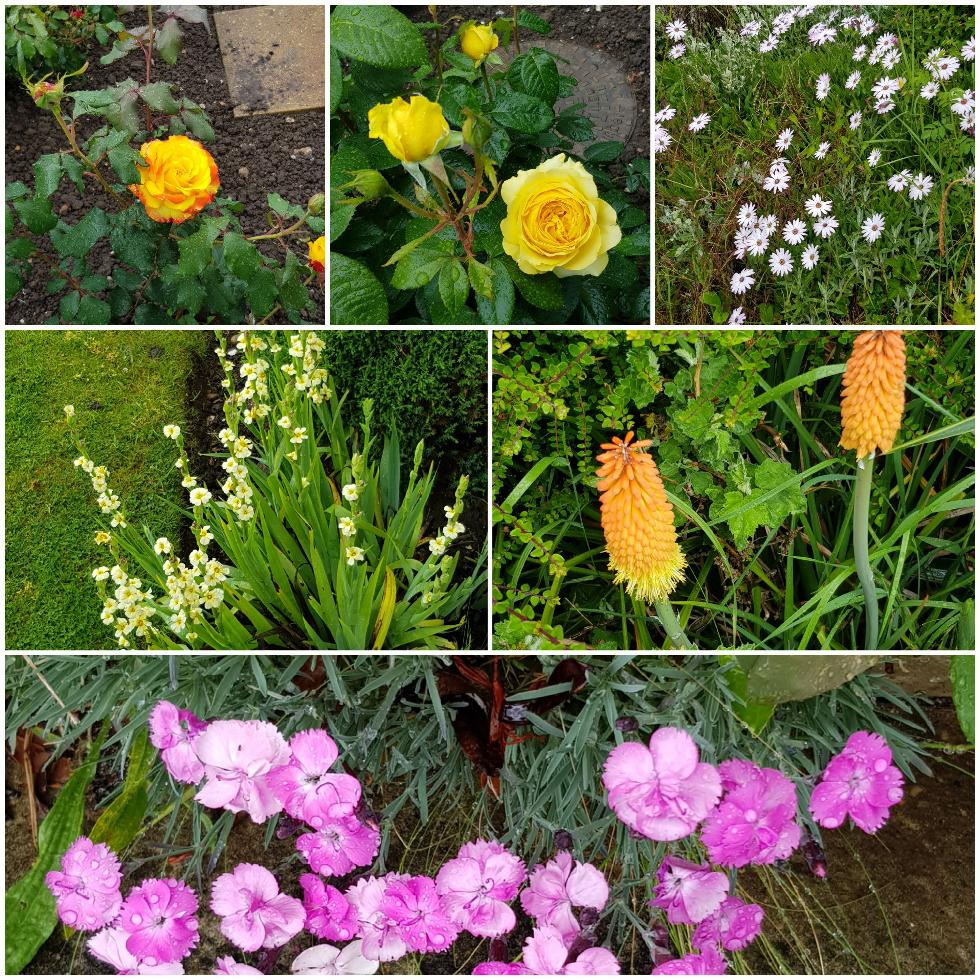 125th Anniversary 2022 - two News items on BBC SouthEast TV

Sponsors of Canterbury Bowling Club
We are fortunate to have various high quality organisations that sponsor our Club in a number of ways. Some sponsor our fixture book and they can be seen here. Others advertise their brands by placing boards on our Clubhouse - click on the expanding images and the hyperlinks for Burgess Hodgson, Chartered Accountants, Choose Leisure, Motorhomes, Canterbury Specsavers ,hearing and eye health, and the Chaucer Hospital.
Firms also sponsor events that we hold